In 2021, L.M.L. Paysagiste et Frères opened their store to the general public to offer customers the opportunity to install their own turf. Advisors and experts are there to assist you in your efforts. To view our products, simply visit our store. We'll gladly help you bring your project to life.
Address:
11500 26th Avenue, Montreal, QC H1E 2Z5
Phone:
(514) 722 1744 ext. 222
(514) 820 9999
Fax:
(514) 722 1754
Opening hours:
Monday to Friday: 7:00 a.m. – 12:00 p.m. and 1:00 p.m. – 4:30 p.m.
Saturday: 7:00 a.m. – 12:00 p.m.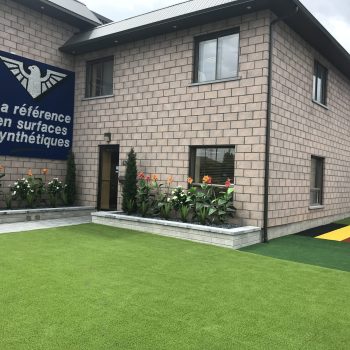 L.M.L.'s outdoor showroom features various synthetic surface, offering a more realistic and sensory experience. Customers can therefore assess and choose synthetic turf products that meet their needs.
HELP US BRING YOUR PROJECT TO LIFE
It's best to have a sketch in hand when discussing your project with our consultants. To ease the process, download our gridded template — it will help you map out existing field conditions and dimensions.